About Us
Indian Cuisine is known around the world for having unique flavours and their dishes are known for its health benefits. Shahi Indian Cuisine is home to delicious Indian dishes and is located at 128b Canning highway, South Perth WA. We offer both pickup and delivery services on any day of the week for your convenience. Some of our specialty dishes include Small Cucumber Raita, Lamb Shahi Korma, Beef Vindaloo, Vegetable Samosa, Dal Basanti, Lamb Masala and a lot more. If you are craving for satisfying meals, all you have to do is to click the "Order Online" button to place an order.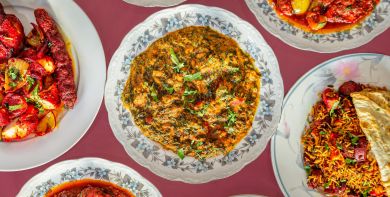 Reviews
Rovee
"A little messy as lids were not tightened, a little late but very courteous customer service and awesome food! Highly recommended!"
Jack
"Very nice, highly recommend!"
Sally
"Delicious food as always and my favourite Indian restaurant"
We deliver to
6000 Perth, 6003 Highgate, 6003 Northbridge, 6004 East Perth, 6005 Kings Park, 6005 West Perth, 6006 North Perth, 6007 Leederville, 6007 West Leederville, 6008 Daglish, 6008 Shenton Park, 6008 Subiaco, 6009 Crawley, 6009 Nedlands, 6014 Floreat, 6016 Glendalough, 6050 Mount Lawley, 6051 Maylands, 6053 Bayswater, 6060 Yokine, 6100 Burswood, 6100 Lathlain, 6100 Victoria Park, 6101 Carlisle, 6101 East Victoria Park, 6102 Bentley, 6102 St James, 6103 Rivervale, 6104 Ascot, 6104 Belmont, 6104 Redcliffe, 6105 Cloverdale, 6105 Kewdale, 6106 Welshpool, 6107 Beckenham, 6107 Cannington, 6107 East Cannington, 6107 Queens Park, 6107 Wilson, 6147 Langford, 6147 Lynwood, 6147 Parkwood, 6148 Ferndale, 6148 Riverton, 6148 Rossmoyne, 6148 Shelley, 6149 Bull Creek, 6149 Leeming, 6151 Kensington, 6151 South Perth, 6152 Como, 6152 Karawara, 6152 Manning, 6152 Salter Point, 6152 Waterford, 6153 Applecross, 6153 Ardross, 6153 Brentwood, 6153 Mount Pleasant, 6154 Booragoon, 6154 Myaree, 6155 Willetton, 6156 Melville, 6163 Bibra Lake